Strain & Seismic Data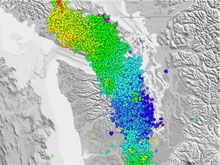 The PBO strainmeter network includes long-baseline above-ground laser strainmeters (LSMs) and Gladwin Tensor borehole strainmeters (BSMs). LSM and BSM data at at 1-Hz rate while BSMs also record at 20-Hz rate and at 10 minute intervals. Raw strain data are available in SEED format from the IRIS DMC while processed data are available in XML (IRIS DMC) and ASCII (UNAVCO) format.
Laser Strainmeter
Laser Strainmeter Data are from six above-ground, long-baseline laser strainmeters (LSMs) with baselines about 450 m in length.
Borehole
Last modified: Tuesday, 11-Jul-2017 20:36:25 UTC