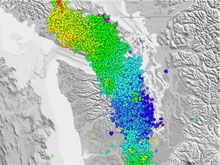 The PBO strainmeter network includes long-baseline above-ground laser strainmeters (LSMs) and Gladwin Tensor borehole strainmeters (BSMs). LSM and BSM data at at 1-Hz rate while BSMs also record at 20-Hz rate and at 10 minute intervals. Raw strain data are available in SEED format from the IRIS DMC while processed data are available in XML (IRIS DMC) and ASCII (UNAVCO) format.
Topics
Laser Strainmeter Data are from six above-ground, long-baseline laser strainmeters (LSMs) with baselines about 450 m in length.
Borehole Strainmeter Data are from over 70 Gladwin Tensor four-component deep-borehole tensor borehole strainmeters (BSMs) grouted in borehole casings at depths of up to 250 meters.
Borehole Seismic data are collected by short-period, deep-borehole seismometers, most of which are co-located with borehole strainmeters.
Borehole Pore Pressure data at a 1-Hz sampling rate is available in ASCII-format files; there are no processed data products because the raw data can be used by users without modification.
Borehole Tilt data are collected by shallow-borehole tiltmeters, co-located with GPS or borehole strainmeter and seismic stations.