Visualization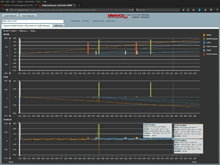 UNAVCO provides a variety of visualization tools that mostly support GPS/GNSS data sets at this time.
Interactive Maps
The GPS Velocity Viewer allows exploration of PBO-site geodetic plate velocities, or your own geodetic velocities, in various reference frames (See also the PBO Network Velocity Field KMZ below).
Jules Verne Voyager has editions for virtual exploration of:
Google Earth (kmz files)
Time series plotting tools
GPS Timeseries Plotter plots north-south, east-west, and vertical GPS/GNSS positions over time and provides site event information such as equipment changes.
Last modified: Thursday, 04-Apr-2019 01:43:53 UTC