Whole Student Mentoring and STEM Resource Workshop
Course Overview
Dates: April 20, 2019
Times: 9:30 a.m. - 3:00 p.m.
Location: Sitter Family Hall Room 710, Fort Lewis College
Fort Lewis College Contact: Dr. Kim Hannula [email: hannula_k@fortlewis.edu]


The Whole Student Mentoring and STEM Resource Workshop is open to all interested STEM faculty and instructors from Fort Lewis College and surrounding areas. This six-hour workshop will introduce the evidence-based concept of intentionally mentoring students in STEM [e.g. Pope, 2002; Huntoon and Lane, 2007; Crisp, 2010], and will include components specifically provided for faculty mentoring of STEM students from underrepresented groups. This workshop will also focus on identifying and providing resources regarding geoscience pathways. These resources include video and animation series, career resources, curricular materials including lesson plans and instructor guides, digital libraries, self-directed learning opportunities, and other available geoscience-focused materials. This workshop builds upon the structure and content developed for intentional mentoring workshops supporting 2YC faculty mentors involved in the UNAVCO – Front Range Community College Geo-Launchpad internship program [Morris and Charlevoix, 2016]. The agenda for the workshop is included below. Stipends ($150) will be provided for participants.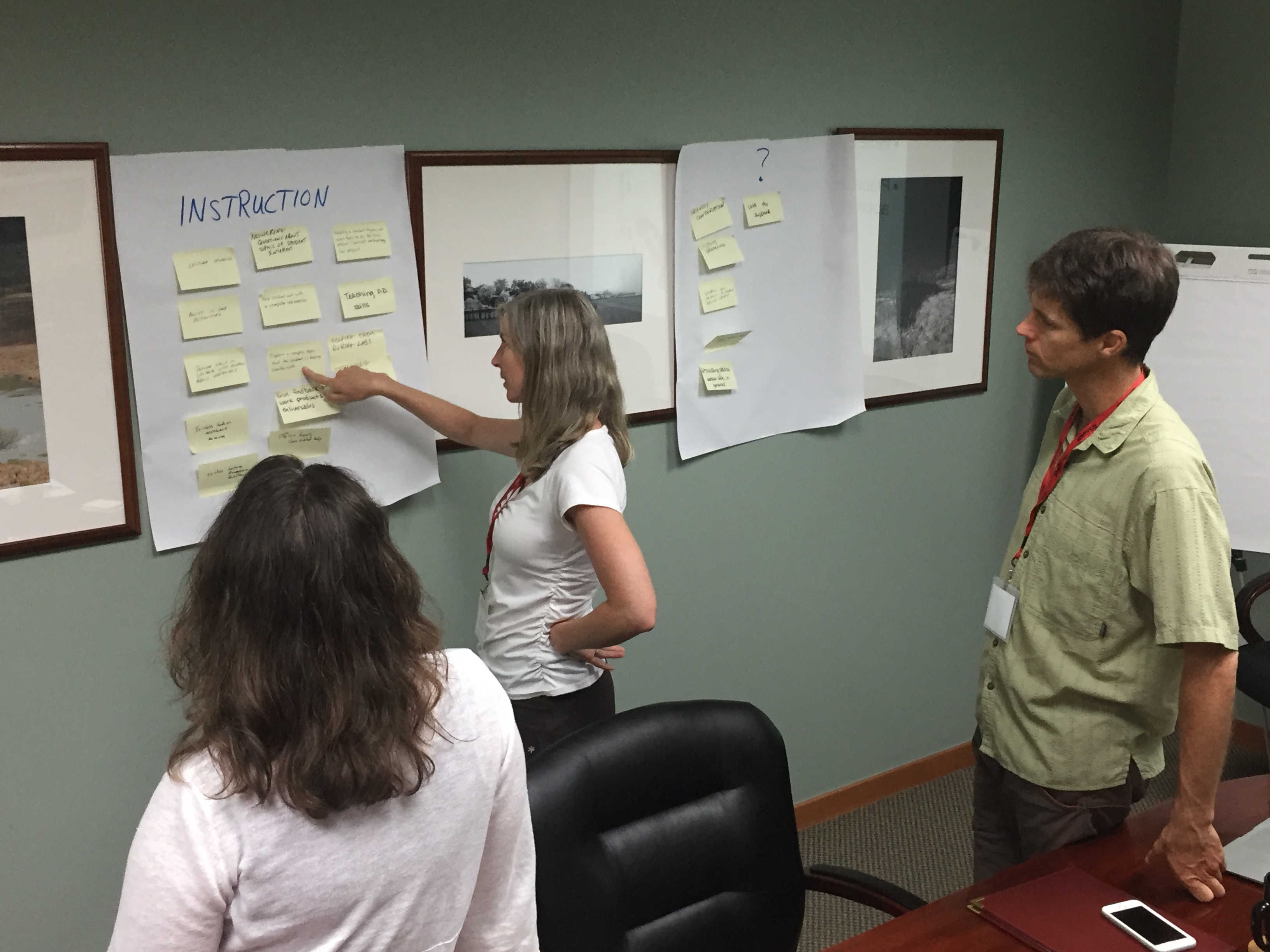 Workshop participants discuss mentoring versus advising versus instruction during the 2016 Faculty Mentoring Workshop at UNAVCO. (Photo credit: UNAVCO)
Agenda:
Workshop opens
Workshop goals and participant introductions
Activity: Mentoring vs. advising vs. instruction
Discussion session 1: The intentional mentor - presentation and discussion
Working lunch (lunch provided): past and current experiences working with undergraduates
Discussion session 2: Reality check on skills, day to day realities of mentoring, practical mentoring matters, phases of mentoring relationships
Mentoring STEM students from underrepresented groups
STEM and geosciences - resources available, making geosciences relevant in STEM classes
Working session: Incorporating geoscience resources into the STEM classroom
Workshop evaluation
Workshop Leaders
Dr. Donna Charlevoix is the Director of the UNAVCO Education and Community Engagement program of which geo-workforce development is a key part. Dr. Charlevoix leads the 2YC Intentional Mentoring Workshop for faculty each summer. She has over 15 years experience managing students (undergraduate and graduate) and research projects, and ten years managing domestic and international science and education programs including science teacher professional development programs and working with scientists from all disciplines within geosciences.
Dr. Aisha Morris is currently the Program Director for Education and Human Resources in the Division of Earth Sciences at the National Science Foundation. She was previously an Education Specialist at UNAVCO. Dr. Morris has expertise in geoscience workforce development, specializing in increasing diversity of historically underrepresented groups in geosciences.
Registration: Please contact Dr. Kimberly Hannula [hannula_k@fortlewis.edu] to register for the workshop no later than Monday, April 8, 2019.
This project is funded by National Science Foundation award ICER-1540524, Collaborative Research: GP-EXTRA: Geo-Launchpad: Preparing Colorado Community College Students for Geoscience-Focused Careers.
Last modified: 2019-12-24 01:25:42 America/Denver