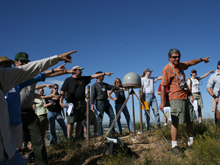 Strengthen professional skills through short courses, online resources, and networking opportunities.
Short Courses are geared for for current researchers, early-career scientists, graduate students, and upper-level undergraduates, covering many applications of geodesy technologies.
UNAVCO is helping Early Career Professionals successfully navigate the transition from student to professional.
UNAVCO provides training and resources to strengthen scientists' abilities to Communicate their work.
Mentor Resources are available for faculty and other professionals working with students, including career exploration videos, mentoring tips, and other resources for student professional development.