Course Overview | Using kinematic and static GPS in undergraduate field courses
Course Overview
Dates: Tuesday August 14 - Friday August 17, 2018
Location: Idaho State University, Pocatello, ID
Times: Course will begin at 6 pm on Tuesday August 14th and end at noon on Friday August 17th.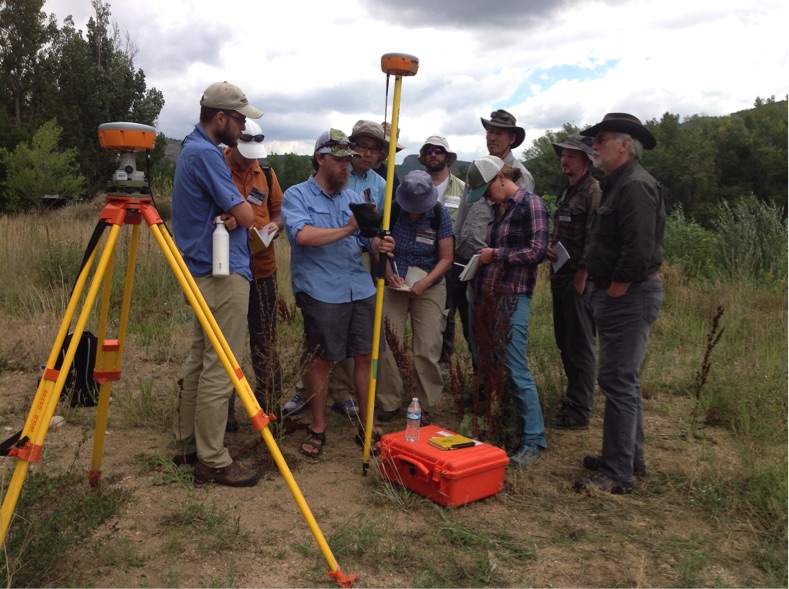 Questions
Please contact Beth Pratt-Sitaula, UNAVCO prattsitaula

unavco.org
Applications
Applications are now closed (deadline was April 26, 2018)
Goals
The goal of this workshop is to equip instructors of geoscience courses with field components with the knowledge and skills needed to integrate high precision positioning with GPS/GNSS into their courses. Participants will learn about both kinematic and static methods and how to guide students through the process of determining which methods best suit different research questions and sites. Featured geoscience applications include measuring topographic features and change detection for both geomorphic and structural geology research questions.
The teaching resources being featured are part of the GEodesy Tools for Societal Issues (GETSI) project's field collection. The primary emphasis will be High Precision Positioning with Static and Kinematic GPS/GNSS but a brief overview will also be given of Analyzing High Resolution Topography with TLS and SfM. We will also use this workshop as an opportunity to discuss best practices, learn about other uses of these technologies in field education, and to identify needs and recommendations for facility support of geodesy in field education.
Vision
Fieldwork is an integral part of the geosciences and there is a longstanding tradition of teaching field methods as part of the undergraduate curriculum. As Earth science research technologies have grown, there is more interest in introducing geodetic methods into field education courses. Technology integration into field education has several advantages, including student engagement and workforce development. This short course has been developed in response to community interest and input and builds on successful pioneering efforts of UNAVCO community members.
Sponsors
The primary sponsors of the short course are the GETSI Project, Idaho State University, UNAVCO, and Septentrio. GETSI is an NSF-funded project to increase use of geodetic data and methods in undergraduate courses. The field education component of GETSI is collaborative between UNAVCO, Idaho State University, and Indiana University. Idaho State University is hosting the short course and has a strong history in undergraduate field studies. UNAVCO, a non-profit university-governed consortium, runs NSF's Geodetic Facility, which includes GPS support for researchers around the globe. Septentrio is a designer and manufacturer of high-end multi-frequency GPS/GNSS receivers and UNAVCO's preferred vendor.
Travel and Costs
Idaho State University is located in Pocatello, ID, which is 2.5 hours north of Salt Lake City International Airport (SLC) and 20 minutes from Pocatello Regional Airport (PIH). The sponsors will provide housing (shared) and food during the short course, transportation to/from SLC and PIH airports and field sites, and a $400 stipend to offset travel costs for participants coming from outside the southern Idaho/northern Utah area. Stipend will be issued after full participation in the short course is complete.
Organizers
Beth Pratt-Sitaula, UNAVCO, prattsitaula unavco.org
Ben Crosby, Idaho State University
Tentative Agenda
Tuesday August 14
Short course introduction
Group introductions
Wednesday August 15
Introduction to GPS/GNSSField teaching with GPS/GNSS
Using kinematic GPS for topographic applications
GPS/GNSS data processing
Thursday August 16
Change detection with kinematic and static methods
More data processing
Community presentations
Friday August 17
Additional work with teaching resources
Implementation planning for integrating resources into field courses
Last modified: 2020-04-16 03:14:36 America/Denver