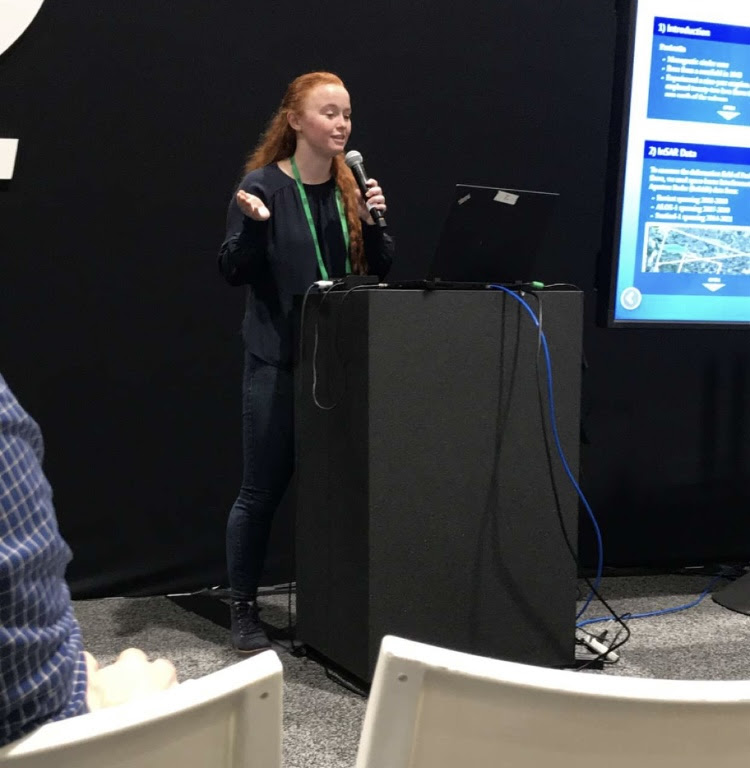 This summer we're introducing interns in the RESESS, Geo-Launchpad, and USIP programs to shine a spotlight on the research projects they are completing throughout these 11-week internships and on their interests in geoscience.
Becca Bussard is a 4th year PhD candidate at the University of Oregon and a returning USIP intern. Her PhD work utilizes geodetic techniques, primarily interferometric synthetic aperture radar (InSAR), to investigate volcanoes in the Cascades. Ground deformation surrounding a volcano can be related to magmatic activity, long-term processes like cooling lava flows or pyroclastic deposits, or seasonal variations like groundwater changes. Throughout her PhD, Becca is studying the different signals that these ground deformation processes display on InSAR. More recently, she has also been incorporating geographic information system (GIS) mapping into her research and she is looking forward to creating deformation models this year.
Becca did not always know that she wanted to go into geoscience, though. In her sophomore year of college at Pennsylvania State University, Becca took a class in which the students watched movies that portrayed different natural disasters and then discussed the accuracy of their portrayal. Although Becca majored in physics, the professor teaching the course, Dr. Christelle Wauthier, became her undergraduate advisor and encouraged Becca to explore geophysics through InSAR and other volcanology remote sensing techniques.
Last year during her internship, Becca enjoyed being able to expand her network in the geodetic community. Although she created lots of InSAR video tutorials and reorganized short course videos to make them more useful, there were projects that Becca and her mentor at UNAVCO, Chris Crosby, discussed but did not have time to complete. Becca wanted to return for a second year through the USIP program to continue expanding her research networks and tackle some of those unfinished projects from last summer. This summer, Becca is creating InSAR content for UNAVCO's website to explain the basics of the technique and its different applications (coming soon!). Additionally, Becca has been updating the InSAR product archive to be compatible with the current InSAR software. The goal of this archive is for people to upload the InSAR data that they have processed so that someone working in the same region can compare their finalized data with that of other scientists. There is no clear-cut, singular way to process data with InSAR, so scientists may get different results for the same region. She is also excited to TA for the UNAVCO InSAR Processing and Analysis short course again this summer.
Q&A:
What has been your favorite part of the USIP program so far?
I would say one of the nice things was that once I accepted the position, they were like, "We want you to go to the SAGE/GAGE meeting and just network with a bunch of other InSAR people that also attend this town hall, and take notes and things like that." I really did love going to the SAGE/GAGE meeting. It was the first one that I've gone to since 2019 when stuff was still in person. So being able to go back in person again was really great this year. Also, to know people this time was really fun, and being able to just meet even more people in InSAR that I obviously just kind of heard of and read about, but to actually talk with them was fantastic. Besides that, the projects I'm doing this year, I really enjoy a lot.
What have you gained from your mentorship with Chris Crosby?
Chris has been a really great mentor and…he understands that I like having multiple tasks at one time and that I like flitting between a bunch of different things. Obviously if he wants me to get something done now or ASAP, he'll stress that, but I really do appreciate that. He is very direct about that and very clear if he wants something done at that moment, he'll just say it and he won't come out of nowhere and be like, "Is this done yet?" I really like that about him. I also think he's just very good about work-life balance. He doesn't expect me to obviously work more than the internship requires and he also is very good about pushing me to make sure I take credit for the stuff that I produce, which I guess sounds simple, but also I just feel like as a PhD student, you're always in that limbo of how much you should put your name on things just because you're not used to it yet. I feel like Chris has been very good about like, "No, you worked on this, you should talk about it, and you should display it. It's important stuff that you're working on." It's been very good. I feel like he's just very supportive and he was also just very clear and communicative, which is great.
What have you learned throughout your project?
I feel like for making the website content, I'm trying to be technical and explain what I'm doing, but also not like regular scientific writing. I'm constantly told—and it's also the norm—to be very technical about what you do. But then with making the website, it's interesting because…the main users might be people that probably know what geodesy is, but might not be familiar with InSAR. [I'm] trying to write posts that hit that target audience of, they have some knowledge, but they want to know what InSAR is. Even if they don't have knowledge or if it is the general public, then also trying to balance the two and not be overly technical. In terms of the stuff for the archive, the goal with that is to essentially make scripts that people can use to prep their data. I'm at the point now where people have to test it, or I'm trying to get people to test it and break it and also trying to figure out if in the instructions I write, I'm being clear enough or if I'm just overthinking it or if I'm skipping steps that I did because I think they're straightforward, but then having people not know how to set it up… I think now that I'm entering into the testing phase, learning how to write instructions for people to use code is a really valid and important skill. I'm excited to go more into that.
---
Although Becca is not sure if she wants to enter academia or industry in the future, she is beginning to look at post-doctoral opportunities following her PhD. This summer, she has been able to travel home to Pennsylvania and visit Niagara Falls! She is looking forward to going back to Oregon and playing soccer before she begins the fourth year of her PhD this fall.

Read Becca's interview from last year here.