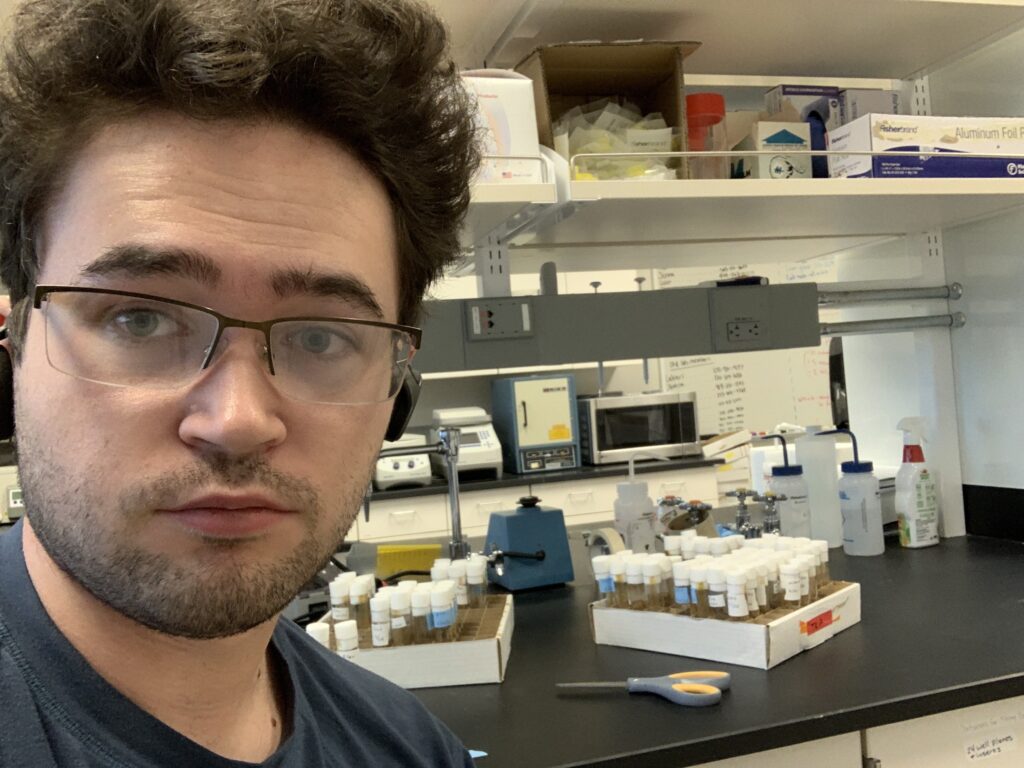 This summer we're introducing interns in the RESESS, Geo-Launchpad, and USIP programs to shine a spotlight on the research projects they are completing throughout these 11-week internships and on their interests in geoscience.
Zach Courter is a rising senior at the University of Colorado Denver where he is majoring in biology and minoring in communications. Zach's mom is a biologist for the Centers for Disease Control and Prevention, so biology had always been prominent in his life. After enjoying IB biology in high school and finding biology more practical and interesting in comparison to other sciences, Zach decided to major in biology in college. He originally attended Portland State University, but transferred schools to be closer to home in the midst of the pandemic. In his sophomore year, Zach took a sociology class called "The Use and Misuse of History," which examined the presence of misinformation throughout US history. For his final project in the course, Zach created a presentation that corrected many misconceptions about COVID-19 and the vaccine. Through this project, he discovered a passion for science communication. When Zach's mom showed him a list of research and outreach summer internships, the USIP program caught Zach's eye. Zach was excited to further develop his science communication skills, especially in the geoscience field.
UNAVCO's Scott Johnson of the Education and Community Engagement team is mentoring Zach this summer. Throughout his internship, Zach has practiced a variety of science communication skills, ranging from graphic design to interviewing other interns. He was first able to learn how to use Adobe Illustrator to rebrand UNAVCO posters as the organization transitions into EarthScope, as well as to create figures for the "What is Geodesy?" webpage and new EarthScope stickers. Zach then honed his interview skills as he interviewed each of the RESESS, Geo-Launchpad, and USIP interns about their summer projects and experiences in geoscience alongside fellow communications intern, Lucia Bellino. He was able to write up a few of these interviews into blog posts, sharing these stories on UNAVCO's website and social media. He is also planning to interview and record RESESS interns in-person, which he will edit into short videos to be shared on UNAVCO's YouTube channel. In addition to learning how to use various Adobe programs for science outreach, Zach has learned a lot about geoscience and how to effectively interview others. As an aspiring science communicator, these experiences and skills will be invaluable to Zach's career.
Q&A:
What has been your favorite part of the USIP program so far?
I think it's a bit of a meta thing, [but] interviewing other people has been a really amazing part of this program. It's taught me so much more about this subject matter and science in general, like how many supporting jobs there are around something like this. It's not just scientists, right? There are engineers, programmers, field engineers who land on the side of Mount St. Helens in a helicopter, policy workers. There are all kinds of different things and it's been so awesome to learn about all that and all the different ways everything ties together. It takes a village for scientific progress to happen.
What have you gained from your mentorship with Scott Johnson?
I've really enjoyed working under Scott because he is kind of what I want to do. He is a science communicator who works for a company. A lot of the advice he's given me, I've really tried to take to heart with relating to how to interview people, how to work on stuff, how to specifically structure what you're saying, as well as the learning process of absorbing this new information and how to get it into something that other people can absorb… He gifted me a huge geology textbook about natural disasters. That was cool, it helped lay that foundation of what I'm working on. That support and the fact that he's always around to answer any questions that I have about the subject has made it so I feel I can really go full speed into the stuff I'm working on or what I'm thinking about and if I have any questions, I can just reach out and ask him, which has been very helpful.
Have you learned about any new topics/research techniques that have really piqued your interest?
Definitely interviewing people, that's a big one. Figuring out how to absorb and then synthesize information from others. Illustrator has been a huge thing. I never even knew how to use that before, but now it feels like for the one remaining year of college…if I ever get asked to design a poster or something, I feel like, no joke, I'm going to rock that.
---
After finishing his bachelor's degree, Zach plans to gain some work experience before attending graduate school to study science communication. He hopes to obtain a position as a science communicator at a company. This summer, Zach appreciated that working remotely allowed him to do lots of fun things, like go to Denver Comic-Con. After the internship ends, Zach is looking forward to going on a road trip through Colorado with his mom.