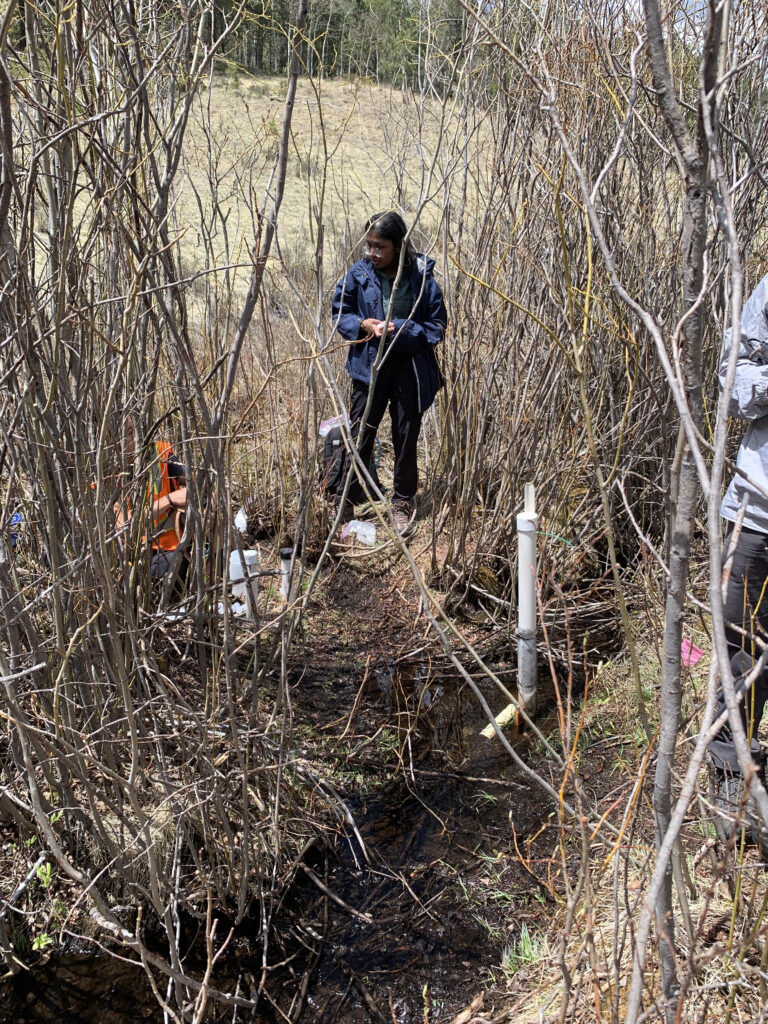 This summer we're introducing interns in the RESESS, Geo-Launchpad, and USIP programs to shine a spotlight on the research projects they are completing throughout these 11-week internships and on their interests in geoscience.
Shradha Ravikumar is a rising senior at Arizona State University studying astrobiology and astrophysics. As a kid, Shradha developed an interest in space as she used her telescope to stargaze on the Florida coastline, where she grew up. Despite this, she entered college intending to pursue biochemistry and forensic science. After attending a large chemistry lecture, she realized that biochemistry wasn't for her. Only three days into her freshman year, Shradha changed her major to astrobiology and fell in love with the subject. Through this program, Shradha has been able to take classic geology courses like mineralogy and geochemistry, as well as an astrobiology course. She's now completing research on planetary interiors with Dr. Dan (Sang-Heon) Shim at ASU. Shradha and Dr. Shim are studying nitrogen cycling in the Earth's interior to better understand the paleoclimate of our planet and its implications for habitability. Shradha applied to RESESS because of the structured, varied mentorship and support that interns receive through the program.
Dr. Kamini Singha and hydrology PhD candidate Sara Warix of the Colorado School of Mines are mentoring Shradha this summer as they characterize groundwater/surface-water interactions in the Manitou Experimental Forest, located 30 miles west of Colorado Springs. The team measured water temperatures of a stream in the forest over four weeks at depths of 0, 10, and 20 centimeters. Using USGS hydrological modeling software 1DTempPro, Shradha is able to constrain the hydraulic conductivity of the soil in the streambed. Hydraulic conductivity measures how easily water can flow through soil or rock and primarily depends upon grain size. A high hydraulic conductivity means that water is easily able to travel through highly permeable material, but a low value means that the water struggles to pass through less permeable material. Shradha's project will contribute to Sara Warix's PhD thesis, which hopes to link hydraulic conductivity to groundwater residence time—how long the water has been in the subsurface.
At the groundwater/surface-water interface, water and chemicals are exchanged between the two. Surface water seeps into the ground, recharging the groundwater. In turn, the groundwater can discharge into streams after being stored for times ranging from days to millennia. This water will have different geochemical properties depending upon how long it was in storage for and the conditions of the aquifer. Investigating the residence time of groundwater and groundwater/surface-water interactions is important to understand how changing conditions can impact vegetation and wildlife, in addition to water quality and the effects of climate change.
Q&A:
What has been your favorite part of the RESESS program so far?
It'd be really hard to choose, but I would say I love our cohort so much—we hang out all the time. We're going bowling tonight. I think it's just really fun to meet other people who are in the same stage of their career and going through the whole process of trying to become a researcher and having the support of a community. It's just really great. We have all sorts of different identities and backgrounds and it's such a diverse cohort… It's people that I feel like I never would have met otherwise… I feel like I have so many more connections now, like the network expanded, since everyone's from a totally different place. Genuinely, I think that's my favorite part.
What have you gained from your mentorship with Dr. Singha?
Dr. Singha is such an interesting, amazing person… I think I really gained a role model. Like, I just want to be her! She's so cool. And with my PhD student mentor, too—Sara—who I work with really directly. She's also amazing and someone I look up to. I feel like what I gained is a number of different role models to look up to in academia. I think that's really important and mentorship from women…is a really important part to me… I think I just haven't had enough contact with women in STEM fields… It just means a lot to me to have a meaningful mentorship and meaningful research connections that are women who have made it really far in their fields. I feel that… community and solidarity is something that I've really gained. I could say a bunch of obvious stuff, like the research experience and tips on grad school, but I would say the most deeply impactful thing is just having role models that have similar identities to me.
Have you learned about any new topics/research techniques that have really piqued your interest?
[The project] is really interesting because it's tying into a larger part of my PhD student [mentor]'s thesis. I think the larger goal is really interesting, of analyzing how these random freshwater resources will eventually change… in response to climate change. That's kind of what Dr. Singha's research group is really all about, which is really interesting. She's a critical zone scientist. The critical zone is the zone that is between the lowest sets of groundwater and the tops of vegetation. All life exists there. Finding out the systems and processes that work within that zone is really important to know how our planet's going to respond to the stuff we're doing to it. It's super interesting, even though it's totally not something I ever even thought of. I [had] never even heard of the critical zone! …It's been so amazing to pick up something new and try my luck at doing something completely different.
---
Shradha plans to attend graduate school to further study planetary science. She is passionate about both teaching and research, and hopes to enter academia. This summer, she looks forward to continuing to explore Colorado while in the RESESS program and to getting trained in high pressure mineral physics laboratory work for the next step of her research at Arizona State University!
Written by:
Lucia Bellino, USIP Intern
Posted: 15 July 2022
Last updated: 31 July 2022
Tags: hydrology, internships