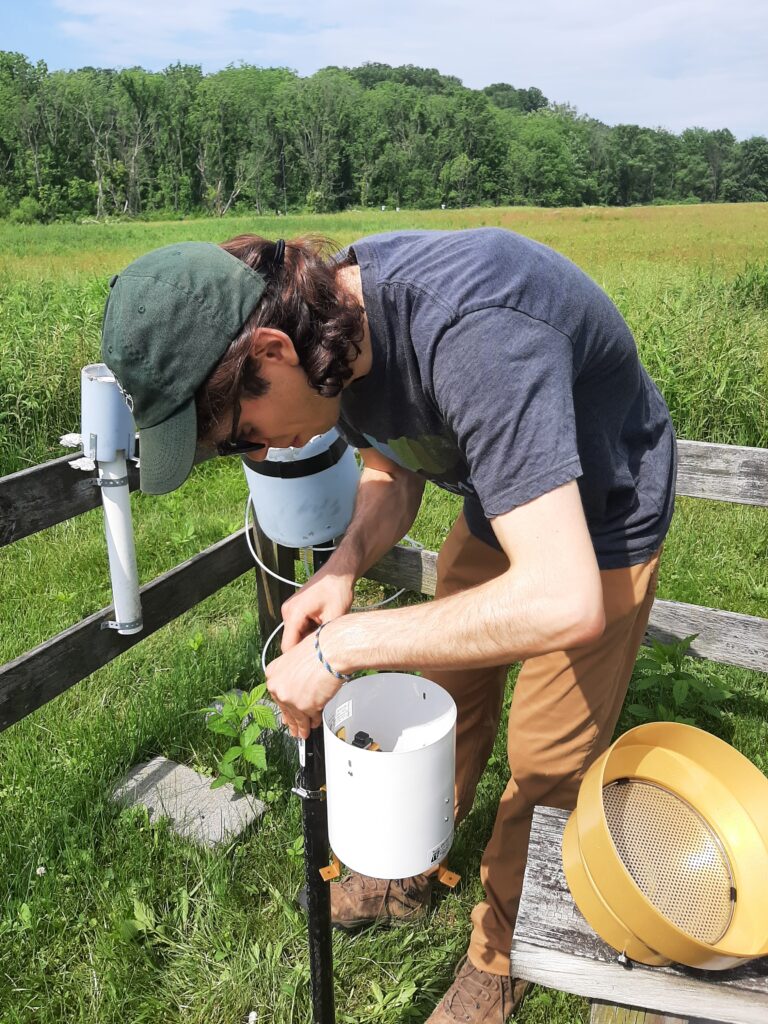 This summer we're introducing interns in the RESESS, Geo-Launchpad, and USIP programs to shine a spotlight on the research projects they are completing throughout these 11-week internships and on their interests in geoscience.
Returning RESESS intern Sam Motz will be completing her final semester at the Georgia Institute of Technology this fall, where she is studying Earth and atmospheric sciences. Her path into science was non-traditional. Sam grew up in Section Eight housing with a single mother fighting breast cancer and never saw science as an option for herself as a child. Despite this, there was a forest behind her apartment that Sam loved to spend time in—not recognizing that she could follow her passion for nature as a career. She first pursued graphic design, then art history, then business, in search of her passion. At Georgia State University, Sam's professor stopped her and told her that she should consider a career in geology. She switched her major to obtain an associate's degree in geology at Georgia State University before transferring to Georgia Tech. Last year during RESESS, Sam began to explore hydrology by studying the influence of topography on discharge and specific conductivity of the Hotel Gulch Watershed in Colorado with Dr. Kamini Singha from the Colorado School of Mines. This year, Sam is looking forward to learning about computational hydrology through her RESESS project.
At the 2021 American Geophysical Union Annual Conference, Sam met Dr. Singha's collaborator and her current mentor, Dr. Ciaran Harman of Johns Hopkins University. Dr. Singha and Dr. Harman are both part of the Bedrock Critical Zone Network (BCZN), which in the summer of 2021 collected a large amount of geophysical data at Panola Mountain, located southeast of Atlanta, Georgia. This summer, Sam is comparing a historical hydraulic dataset at Panola Mountain that contains information about the ground surface and the depth of refusal—the point at which the ground cannot be hand augered any further—and newly collected ground penetrating radar (GPR) data. With the aid of BCZN collaborators and her co-mentor, Ph.D. student David Litwin, the goal is to see what geophysics can tell us about the subsurface flow of water in an experimental hillslope. The hydraulic portion of the historical dataset Sam is looking at contains data collected by piezometers that measure changes in the groundwater pressure during storm events. GPR can be used to obtain subsurface information by sending a signal into the surface and recording the strength of and time lapsed for the reflected signal. Signals are reflected back to the receiver as it passes through different properties. Sam, David, and Dr. Harman worked to align the historical datasets with those collected by the BCZN team so that comparisons could be made. This alignment has been more difficult than originally thought, as the hillslope has been studied extensively leading to anthropogenic and geomorphic changes in the 20-year gap between these datasets. Despite this, Sam is excited to be thinking about how to visualize this 3D dataset and to be looking into subtle patterns within the GPR that might indicate that the GPR can pick up on how water moves through this hillslope. 
Sam's project is part of the initial work at Panola Mountain for the BCZN as she will be presenting her findings to the group in the fall. From a broader perspective, hillslopes are important basic landscape units that play essential roles in determining the storage and movement of water. Sam's study deepens our understanding of hillslope hydrology by using GPR to explore the structure of the subsurface in greater detail than any previous study of this site. Synthesizing these observation with existing hydrological datasets may provide new insights beyond the Panola watershed, helping scientists understand upland landscapes today and under future climates.
Q&A:
What has been your favorite part of the RESESS program so far?
Definitely [getting to go to] a new city. I've been thinking a lot about grad school, so Johns Hopkins and Baltimore have been on my list. It's not too far away from home. It sounded interesting, and it is an interesting city. So definitely being able to explore a new city, explore a new type of science, and get to meet a lot of new people.
What have you gained from your mentorship with Dr. Harman?
Learning and developing my understanding of hydrology in general. I haven't taken my intro to hydrology course, [which] was supposed to be next semester. Overall, Dr. Harman has helped me learn a lot about computational hydrology. Even more on how to think about things mathematically because everything is ruled by the basics: the basic principles of linear algebra, calculus, and differential equations. Also to be so passionate about it is inspiring. If I have taken anything away from Dr. Harman's advising it is that linear algebra is a powerful tool! I know he would be so happy to hear that. In terms of looking for grad school mentors, Dr. Harman for me set an example of the type of mentor I would like to work with.
Have you learned about any new topics/research techniques that have really piqued your interest?
I'm definitely now considering computational hydrology for grad school instead of a more fieldwork-based program. I think the future in furthering our society and better understanding our world is in computation and with some of the skills I picked up this summer I can see myself more feasibly doing this. So computational hydrology and potentially machine learning. I'm excited to pick up more python and sink my teeth further into hydrology topics!
---
Sam is excited to finish her bachelor's degree and undergraduate thesis this fall. She will be presenting her undergraduate thesis work at GSA and aims to publish her first paper this year. Additionally, Sam is planning to present this work at AGU and to be able to further contribute to this project in the future. Sam hopes to attend graduate school and continue to pursue research.

Read Sam's interview from last year here.