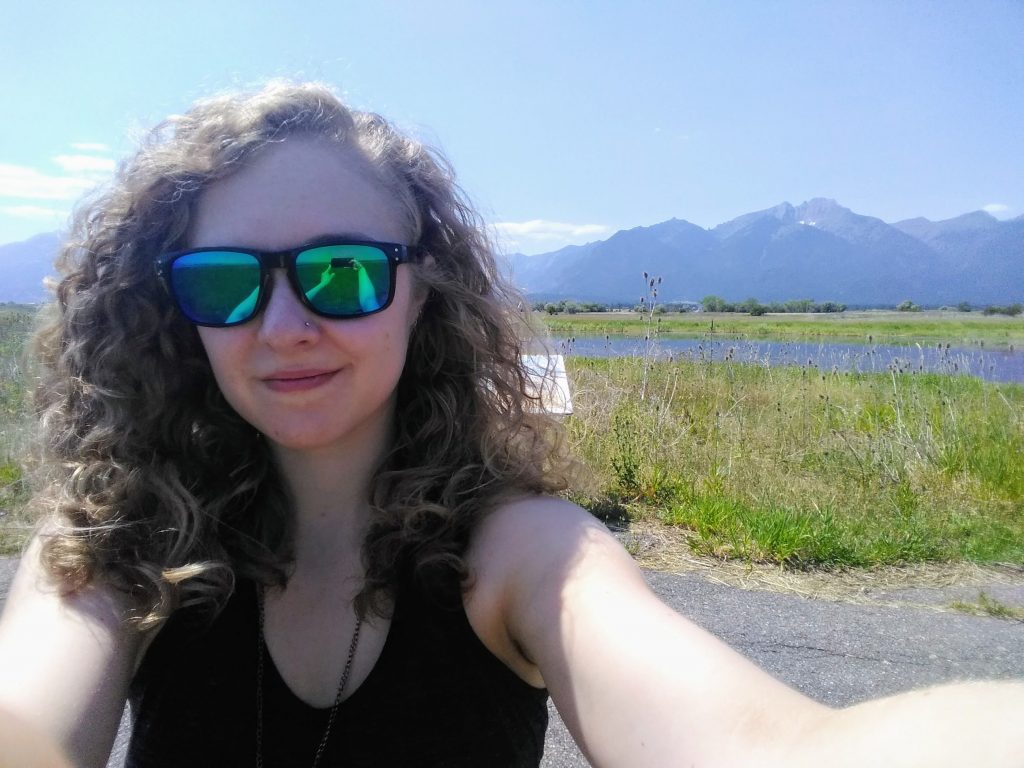 This summer we're introducing interns in the RESESS, Geo-Launchpad, and USIP programs to shine a spotlight on the projects they are completing throughout these 11-week internships and on their interests in geoscience.
Courtenay Duzet is a geoscience master's student at the University of Montana. Although she had enjoyed geology and collecting rocks since she was a kid, Courtenay feared that there were no viable career options in the field. She entered her bachelor's degree at Portland State University as a pharmacy major, but disliked the chemistry courses she needed to take for the program. This led Courtenay to switch majors to physics—specifically astrophysics. She transferred to Oregon State University and took a number of classes on volcanoes, ultimately causing her to change her major again to environmental science with a focus in geology.
In her master's program, Courtenay is creating a seismic velocity model for west-central Montana with passive seismic data from a M5.8 earthquake that occurred in Lincoln, Montana in 2017. This model will be the first one for this specific region and should be more accurate than the previous model for the state, as the most recent model for Montana was created in 2003 and without the quality data that was obtained from the earthquake in 2017. Courtenay's research should provide a deeper understanding of the lithology of the region, estimates for seismic wave speeds at various depths, and increased precision when locating the origin of earthquakes.
UNAVCO's Scott Johnson is supervising Courtenay throughout her science communication internship. Courtenay applied for the USIP program because she wanted the opportunity to gain geoscience career experience. She had heard about all of the important work that UNAVCO does because of UNAVCO President Becks Bendick's association with the University of Montana, where Courtenay is completing her master's degree.
One of the main efforts that Courtenay is working on is migrating the UNAVCO website to a newer WordPress-backed platform. This fresh update to the website should provide improved organization of resources and be more user-friendly. She has also been assisting fellow USIP communications intern Lucia Bellino conduct interviews with RESESS, Geo-Launchpad, and USIP interns in order to write these spotlight articles. Courtenay keeps up to date with images that field engineers submit, posting them on social media. In addition to writing a post about a new scientific article, Courtenay also wrote a (forthcoming) piece for the USGS Yellowstone Caldera Chronicles.
This summer, Courtenay has gained experience with public science communication. As a master's student, she is used to writing technical papers that, in her words, "are very cut and dried." Through social media content creation, in addition to writing longer articles, Courtenay refined her skills in synthesizing complicated technical information and making it accessible and engaging to the public. She also refreshed her HTML skills when migrating over website materials to the new WordPress-based site.
Q&A
What has been your favorite part of the USIP program so far?
I did like going to Boulder and meeting people in-person, but I think, at least for USIP, the coolest part is that they really incorporate you into everything. We get to go to the [Education and Community Engagement team] meetings and I feel like they value our opinions. We're not just interns, we can actually give valuable, meaningful input and they want us to do that. I don't feel like an intern, I feel like more part of the team, like I'm not just there existing like a fly on the wall. I think that's my favorite part.
What have you gained from your mentorship with Scott Johnson?
He's very confident and relaxed. In grad school, I've gotten the impression that everyone has to be super serious in their job. But he's very relaxed and makes the job fun, so it's nice to see that in the real world. He's very helpful and cares about what we're learning and our progress and that we're getting everything that we can out of it.
How does this internship fit into your future goals or help you achieve them?
Honestly, it's a little different from what I ultimately would like to do career-wise, but I did want to do a science communication internship because it's definitely something that interested me. Now I know more about it… I'll be a TA this year, so I think it'll help me simplify things for students and make it a little bit more fun and relatable.
---
After finishing her master's degree, Courtenay hopes to obtain a PhD in volcanology and study the volcanoes of Alaska or Iceland. Her work with UNAVCO this summer has encouraged Courtenay to learn more about geodesy and GPS data, and led her to consider incorporating GPS into her future research. Regardless of whether she decides to get a PhD or go straight into the industry, Courtenay's major goal is to be working in a geoscience career that focuses on volcanology.