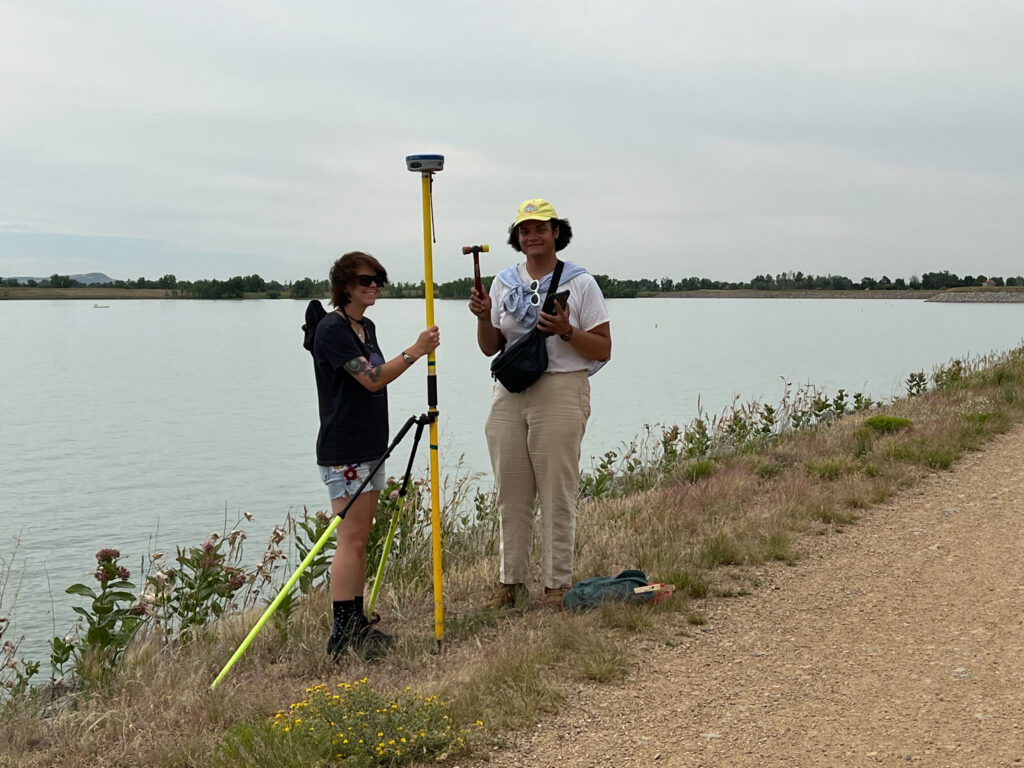 This summer we're introducing interns in the RESESS, Geo-Launchpad, and USIP programs to shine a spotlight on the research projects they are completing throughout these 11-week internships and on their interests in geoscience.
Taryn Roby is transferring from Red Rocks Community College to Metropolitan State University as a rising junior majoring in environmental science and obtaining a water studies certificate. Taryn has always had a huge appreciation for nature, and searched for career paths that would allow her to be outdoors. Kyle Albrecht is transferring from Front Range Community College to the University of Michigan as a rising junior to study environmental science with a focus in ecology. Kyle actually studied art history at Front Range Community College, but decided to pivot to environmental science as he thought about potential career paths. Kyle's environmental science instructor at Front Range Community College shared the internship opportunity with them, and similarly, Taryn heard about the Geo-Launchpad program through Red Rocks Community College. For both Taryn and Kyle, Geo-Launchpad is an introduction to scientific research.
Marianne Okal, a UNAVCO engineer on the Geodetic Infrastructure team, is mentoring Taryn and Kyle this summer. The team is testing the accuracy and precision of four different brands of GPS/GNSS receivers. In order to do this, Kyle and Taryn are using a surveying technique called real-time kinematic (RTK) positioning. RTK positioning requires two receivers: a base station and a rover. The base station stays in one known location while the rover moves. The base station receiver collects a large amount of data from the GPS satellite and uses a program to estimate its position, which is then transmitted to the rover. Since the base station's location isn't changing, it can report how inaccurate the location estimate is due to atmospheric interactions over time. The rover uses this satellite and location data and applies atmospheric corrections to better estimate its position. The rover is then changed for each of the different sets of equipment that Taryn and Kyle are testing. The team studied 12 predetermined sites, spaced out at two-mile intervals, and took repeated measurements of rover locations for each of the four different brands of receivers to calculate the accuracy and precision of each. The end product of Taryn and Kyle's project will be a chart summarizing the performance of these instruments. Scientists will then be able to consult this information when selecting the instruments they would like to borrow that best fit their research needs.
Q&A:
What has been your favorite part of the Geo-Launchpad program so far?
Taryn: Experiencing research because you learn about the scientific method in classes, but actually doing it hands-on is way different. I'm really enjoying getting the opportunity to go through the process with real-world experience.
Ky: I'd have to say I kind of relate to that…This is my first foray into the science field, so I guess it's kind of shrouded in mystery if you're outside of that or don't have any direct connection to it. To now be in this internship program and understanding this is how our research program goes and this is how the people operate within these systems, and how you would even conduct your own [research]. All of that has been very intriguing, to get this introduction to the scientific field.
What have you gained from your mentorship with Marianne Okal?
Taryn: Definitely hands-on experience. I've also realized that there's a lot more behind the scenes that goes on in research projects. For example, it took us a while to get our permit just to find a place to research and I didn't even think that'd need to be on the do to list. The permit is usually time consuming because it takes three weeks or a month to approve it. Luckily, Boulder Reservoir granted us permission quickly. We also had to restart a couple times – I think the third time was the charm for us. And then just all the troubleshooting behind the scenes. Marianne's guidance with this project has been fantastic with going out of her way to make sure we understood each step along the way. This created a comfortable environment to ask questions in order to really get a deeper understanding of the whole process. We also got to work with some different programs; like spreadsheets, which will be very useful for the future.
Kyle: I think that due to the nature of this project, which is this very formulaic data collection, that you repeat the same steps over and over, which I think is kind of the basis of science, right? If you're collecting large amounts of data just to compare one thing to another. I think it's very interesting. Like Taryn was saying, collecting data, forming a plan, and following it and making sure that all of these steps are really well organized and handled well in order to make sure your data is consistent and [of] good quality.  That's probably the biggest thing I've gotten out of it. I feel like it's very fundamental science that you need to follow a procedure and do all these things.
Have you learned about any new topics/research techniques that have really piqued your interest?
Taryn: Geoscience is such a huge field. There are so many different pathways I hadn't heard of before this internship. I am excited to explore and learn about the career opportunities out there. I quite enjoyed both being outside collecting data as well as the data processing. A balance of both was great and is something that really interests me for the future.
Kyle: This is my first experience into the scientific field in general. I feel like a lot of doors are opened up. This is an interesting basis of research. What's kind of interesting about this project specifically is that surveying is something that is used in a lot of different types of research, actually; it's a pretty fundamental [tool]… If you're trying to understand the location better and have this basis of data, you can usually have surveying somehow incorporated into that. I would say perhaps I can't say anything specifically, but I would say seismology, which I think is interesting. I'm not sure if I would personally go into it further. Hydrology I do find fascinating, as well, which also kind of deals with this sort of thing a little bit. Just because I really like science that has a lot of human implications like, how does this affect people that are living in this location?
It's interesting talking with field engineers… Sam Beane has also gone on these really cool field experiences to Tanzania and the Galapagos. [He was] basically communicating how in Tanzania, the shifting around this volcano (Ol Doinyo Lengai) could theoretically impact the local people. That, to me, is very fascinating, because again it's that human implication of we're taking GPS [data], but this has really broad-reaching things that need to be communicated with people. It's interesting to see how far the basics of GPS go in terms of supporting sciences.
---
Taryn plans to study hydrology and explore the different careers and fields within geoscience further. As she transfers schools this fall, she hopes to continue working at River Watch, a non-profit organization that facilitates citizen science research on water samples from rivers and streams in Colorado. Kyle is excited to move to Michigan this summer and begin school at the University of Michigan, where he already has another research internship lined up. They are considering obtaining a master's degree after graduating, and hope to someday work at a non-profit organization or government agency that allows them to support scientists and continue doing field research.