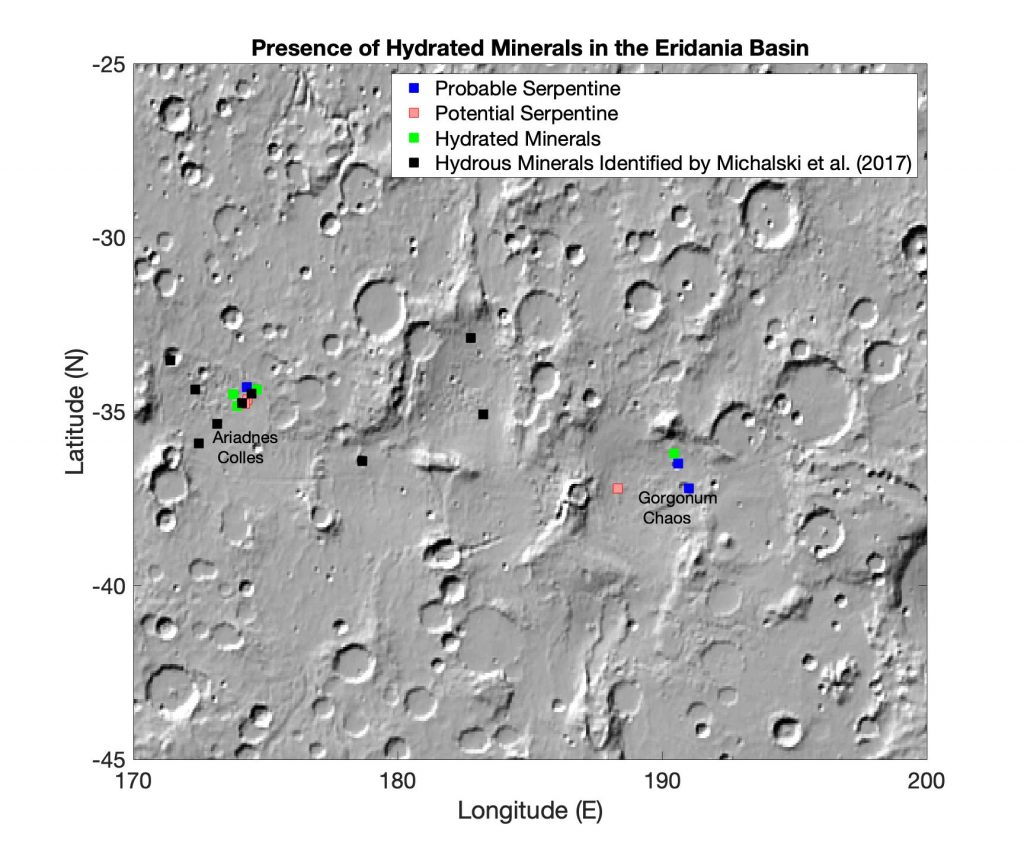 This summer we're introducing interns in the RESESS, Geo-Launchpad, and USIP programs to shine a spotlight on the projects they are completing throughout these 11-week internships and on their interests in geoscience.
Lucia Bellino is a recent graduate of Rutgers University, earning a B.S in Geology, specifically Planetary Science. Before finishing school, she was involved with an exciting research project regarding Mars and the search for life. She and her professor studied a region of the Red Planet that is hypothesized to have been an ice-covered, hydrothermal lake during the Noachian, approximately 4.0 billion years ago. Lucia used visible and near-infrared spectroscopy to identify hydrothermal mineral alteration within the region, which can have astrobiological implications.
What led Lucia to this project was not initially an interest in geoscience but in chemistry. While she began her academic career as a chemistry major, many of the research opportunities were geared towards the medical field, which wasn't the direction she wanted her studies to follow. However, when she joined a research program doing chemical analyses to determine the North Atlantic Ocean's climate during the Miocene, she unearthed an unexpected interest in geoscience. After a handful of geology classes, Lucia switched her major to Planetary Science and the rest was history.
Even though she had a plethora of experience at Rutgers University, Lucia sought to participate in a program outside of her university. The perfect opportunity presented itself when her professor sent out an email with information about UNAVCO's summer internship program. UNAVCO offered various projects, but the science communication project felt like a good fit given her previous internship with the Rutgers Geology Museum and her interest in the field of science communication.
This summer, Lucia has been working with UNAVCO's Scott Johnson to aid in the migration of the UNAVCO website to a new WordPress-based version. While it is a substantial task, the revitalized site boasts a sleek organization of resources and information, in addition to making it more accessible to the public. Additionally, she has spearheaded the intern spotlight interviews with the RESESS, Geo-Launchpad, and USIP groups. As if that were not enough, Lucia has also created many educational gifs and shared them via social media platforms, alongside UNAVCO videos and other educational materials. Also, be sure to check out her news post on a recently published GNSS study!
While she has experience with writing technical papers and engaging with students as a learning assistant, she has enjoyed learning about the ins and outs of communicating science via social media. Writing scientific articles meant to grab the attention of the public and garner their interest in geoscience has also been an important and valuable skill that she has honed this summer.
Q&A
What has been your favorite part of the USIP program so far?
I think that first week in Boulder was definitely my favorite part. I've never been to Boulder before… It made a difference getting to meet the other interns and Scott in person. Since March 2020, my school has been online and I haven't really seen anyone [in person] so it was nice to get to see people and build that foundation.
What have you gained from your mentorship with Scott Johnson?
He's really committed to our learning process and makes sure we are getting everything out of this internship, which I really do appreciate. He checks in with us each week to make sure that we're getting what we want out of the internship. It doesn't feel like we are just doing work for him, but actually learning skills that will be useful for us, like writing science articles and interviewing interns.
How does this internship fit into your future goals or help you achieve them?
I feel like no matter if I go into academia or go into the industry, I always want to prioritize science communication and education. I think that getting to learn so much about accessibility and about how to do public outreach and science communication for a broad public audience will be invaluable.
---
Lucia plans on attending graduate school to pursue her passion of remote sensing and planetary science, after which she looks to begin a career in either academia or the industry; as long as research is involved! For the remainder of the summer, she will be exploring her new home of Seattle and experiencing all the Emerald City has to offer.