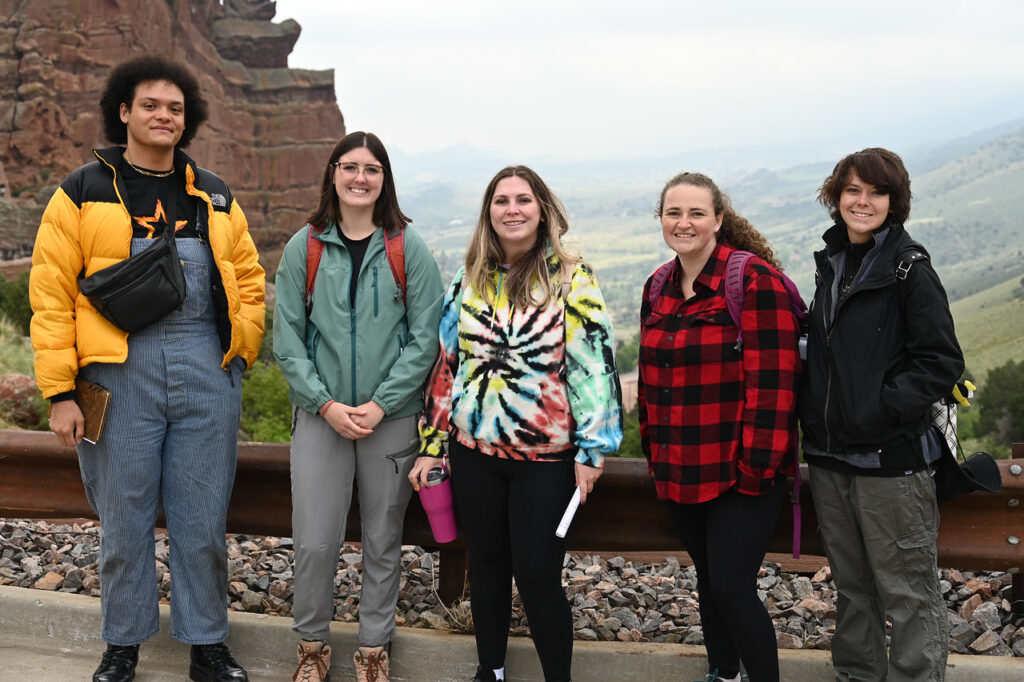 This summer we're introducing interns in the RESESS, Geo-Launchpad, and USIP programs to shine a spotlight on the research projects they are completing throughout these 11-week internships and on their interests in geoscience.
Kristen Grayson is a biology major currently enrolled at Pikes Peak Community College. Ever since she was a child collecting rocks, Kristen has had an interest in geology. She shares that interest in geology with her husband, with the two enjoying spotting and reading up on various landmarks on road trips together. It is that interest in geology that motivated Kristen to take interest in potentially pursuing a minor in geology at the University of Colorado at Colorado Springs after moving to the centennial state. Having grown up in San Diego, Kristen also has an interest in marine biology, which she is currently exploring through a biology major. Kristen applied to Geo-Launchpad in the interest of gaining more research experience in preparation for potentially applying to graduate school someday.
Kristen is working with mentors Lindsay Rogers and Dr. John Berggren of Western Resource Advocates on several projects related to the process of examining and drafting local government water conservation policies, such as adding notable policies to the state policy database on different forms of water efficiency, land-use water integration, and water reuse nationwide. Kristen is also working on updating a comprehensive spreadsheet covering different turf replacement incentive programs offered by different municipalities in Colorado, as well as an FAQ about the challenges and benefits of artificial turf, and a "tap fee" guide for Colorado, which covers how different towns and cities charge developers for tap fees; charges to install new water/sewer connections on municipal or private property.
In working as a part of this program, Kristen has realized that policy making is an incredibly important part of making societal progress with science-related issues. Although she is more interested in pursuing the science side of biology and geology, she realizes there needs to be a connection made between scientific research and policy makers at some point, in order for scientific advancements to be brought into modern society.
Q&A
What has been your favorite part of the RESESS/GLP program so far?
Overall, I think the people I've met have been really great. Kelsey (my Manager for Geo-Launchpad) and everyone else who's involved in the internship are wonderful people and amazing to talk to each week. We have group check-ins every Thursday, and it seems like we spend the majority of the time catching up with each other and sharing stories which I find to be really beneficial since I feel like we're all getting a lot more social interaction through those check-ins after COVID took a lot of that away for the past couple of years.
What have you gained from your mentorship with Dr. Roger and Dr. Bergrin?
I didn't realize how many different policies existed for protecting natural resources and how many new policies come out each year. I feel like I've mostly gained research experience through my mentors, which was exactly what I wanted out of this internship. Since I'm in community college, I haven't had the opportunities to do a lot of research yet, so it's been a really great experience to see what an actual job the science field looks like. Although policy work is not my career goal, it opened my eyes to a whole career field that I had never thought of before and how important policy work is to the sciences that I am pursuing.
Have you learned about any new topics/research techniques that have really piqued your interest?
Definitely the proper way to google things and research different topics. Instead of typing in, water conservation Kansas, searching – Kansas State Legislature "water conservation" or "water reuse" seems to work a lot better for finding what you are looking for. Putting the key works in quotations has a lot more power than I imagined.
---
Moving forward, Kristen intends on studying all of her academic interests by pursuing a major in biology with a minor in geology. She also hopes to pursue a masters or PhD in Marine Biology once finishing her undergraduate degree. Once she transfers to UCCS, she will be adding a geology minor to her biology major, and while she hopes to be able to pursue a career in marine biology, starting with graduate school at Scripps Institute of Oceanography in San Diego, she is also keeping the door open to a career in geology while remaining in Colorado.