UNAVCO recently wrapped up a two-year project upgrading and installing geodetic stations to better serve the ShakeAlert® Earthquake Early Warning System, but the work contributing to ShakeAlert is far from over. As a result of a new interagency agreement with the National Science Foundation and the United States Geological Survey, UNAVCO will build and operate the new geodetic data architecture of ShakeAlert.
The ShakeAlert system uses a distributed network of sensors—seismometers, currently—to quickly detect earthquakes and issue ShakeAlert Messages containing estimates of earthquake location, magnitude, and the distribution of shaking. USGS-licensed alert distribution partners use the contents of ShakeAlert Messages to develop and deliver alerts to end users, potentially before shaking arrives.
Adding geodetic GPS stations that measure ground movement (termed GNSS when they include multiple satellite constellations) has significant benefits because it enables faster identification of the largest earthquakes.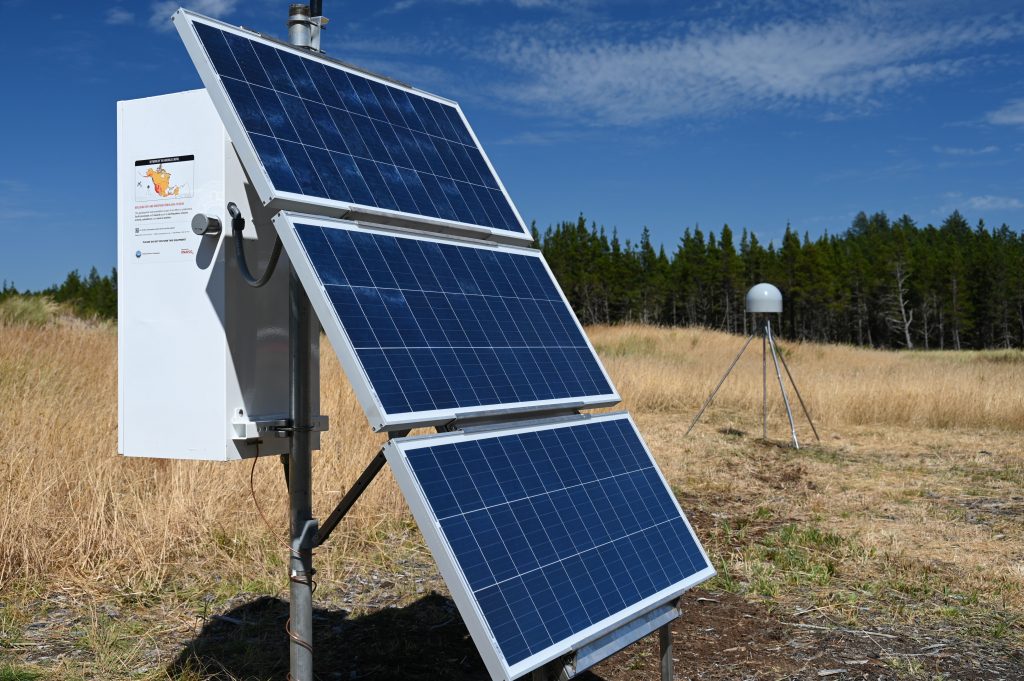 Seismometer networks around large-magnitude earthquakes have difficulty telling a magnitude 7.0 from a magnitude 9.0 based on the initial measurements. That can lead to an estimate that starts out too low and increases over time. But while geodetic stations are much less sensitive to small earthquakes, there is no upper limit to the movement they can record. This helps the earthquake early warning system accurately estimate the magnitude significantly more quickly for large events.
In order to put this into practice on the US West Coast, a couple things are needed. The first is a reliable, real-time geodetic data feed to the ShakeAlert system. The second is further development of the ShakeAlert algorithm to integrate this feed into the operational system. UNAVCO is taking on the first task as the designated operator of the ShakeAlert system's geodetic component, which will enable the ShakeAlert team to finalize work on its end.
Currently, real-time geodetic stations in the Network of the Americas stream data through UNAVCO's Boulder data center. To eliminate points of failure and improve performance, UNAVCO is lifting its data operations into the cloud, where it can run on redundant and flexible servers.
This requires a software overhaul, as well, to build a new cloud-friendly system. It will take advantage of the same low-latency, reliable tools that underlie services like Twitter, here used to collect and deliver geodetic data to all users.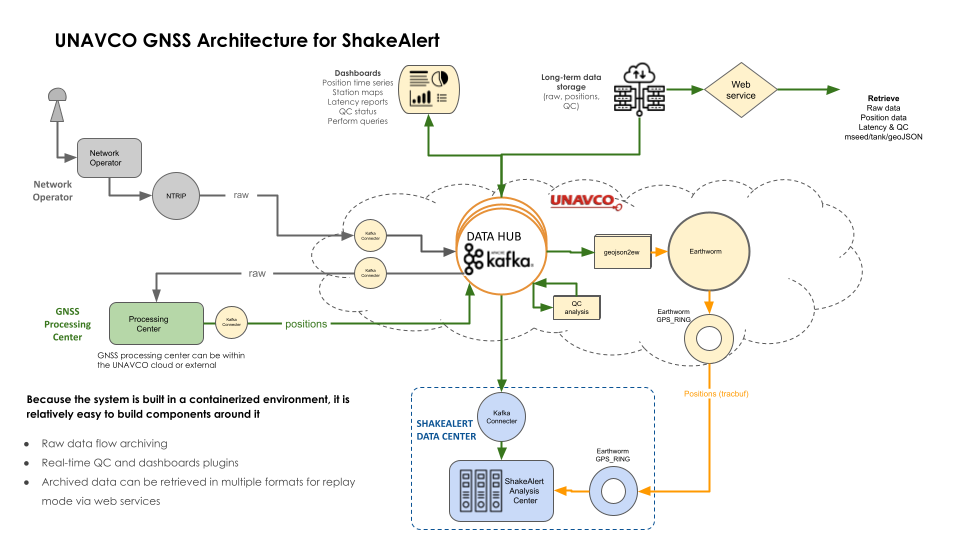 The new data operations system will be built out over the next two years and begin streaming real-time GPS/GNSS data. At the same time, the ShakeAlert Project will continue testing their geodetic algorithm on real earthquakes in parallel with the live system until everything is ready for full integration.Events like the 2019 magnitude 7.1 Ridgecrest, California earthquake clearly show how useful geodetic stations can be. Seismic estimates of that event never went higher than magnitude 6.3, while the geodetic data indicated a magnitude 6.9 after just 13 seconds. Now it's just a matter of getting it all running together.
Written by:
Scott K. Johnson
Posted: 25 October 2021
Last updated: 25 October 2021
Tags: ShakeAlert