Visualization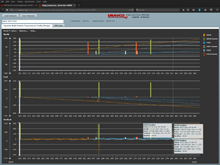 UNAVCO provides a variety of visualization tools that mostly support GPS/GNSS data sets at this time.
Interactive Maps
Time series plotting tools
U-Plotter dynamically plots GPS position data, strain data, pore pressure and other parameters as a function of time. Also see the associated Documentation.
Data Archive Plotter plots north-south, east-west, and vertical GPS/GNSS positions over time and provides site event information such as equipment changes.
Last modified: Monday, 14-Nov-2016 18:19:00 UTC