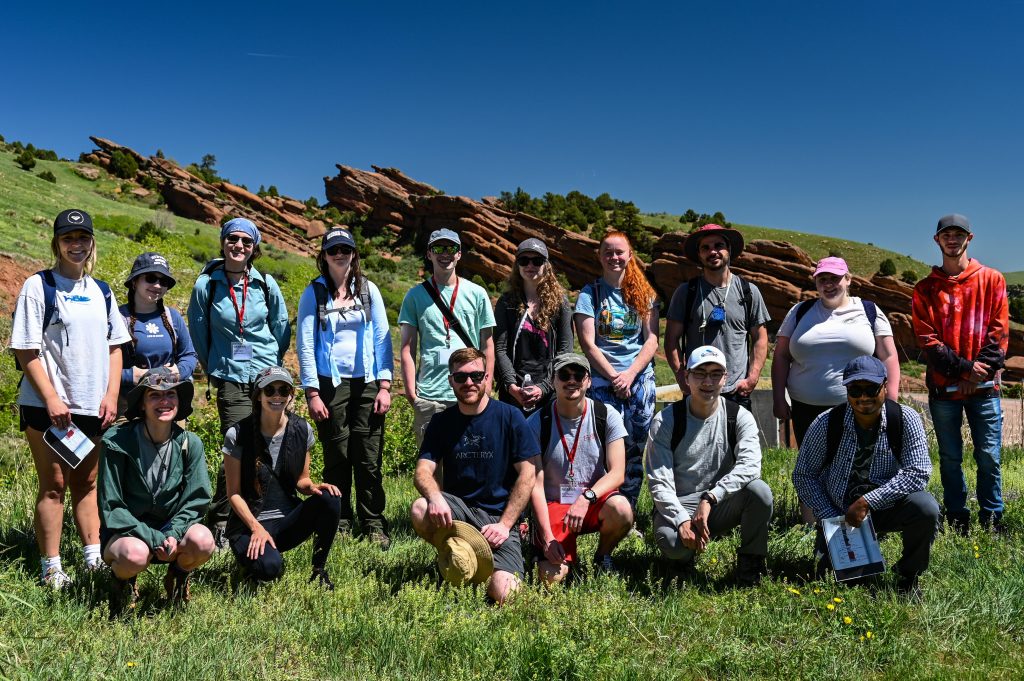 May 24 saw the official launch of our three summer internship programs! The RESESS program provides undergraduate research internships primarily focused on increasing diversity in the geosciences, the Geo-Launchpad program specifically serves Colorado and New Mexico community college students, and the USIP program brings in graduate and upper-level undergraduate students in to work with UNAVCO staff.
After meeting UNAVCO staff, touring the facility, and learning about how we support geodesy, interns also got an introduction to Colorado geology on a day-long field trip led by CU Boulder Prof. Lon Abbott. Starting at Red Rocks Amphitheater and traversing through the stratigraphic section to Dinosaur Ridge, they saw everything from Precambrian gneiss to Cretaceous dinosaur footprints.
Internships this summer are operating on a hybrid schedule. Geo-Launchpad and RESESS interns will be based in Boulder for the first five weeks, working with their mentors, but returning home to continue remotely for the final six weeks. And after the initial week of activities in Boulder, USIP interns are working remotely for the duration of the summer.
We'll be able to introduce some of our interns and share more about their projects in the coming weeks, so stay tuned!
Written by:
Scott K. Johnson
Posted: 8 June 2021
Last updated: 8 June 2021
Tags: internships