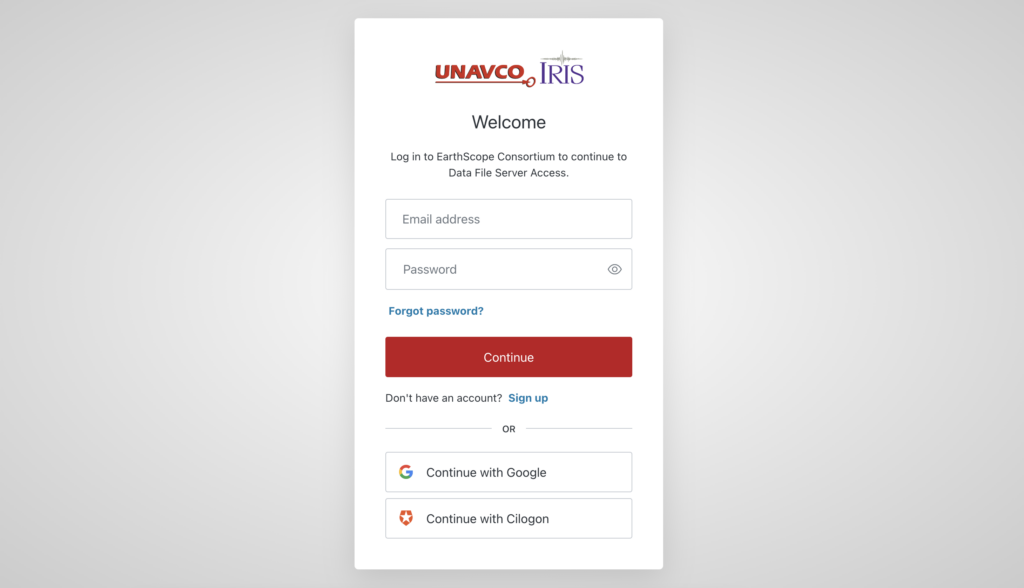 There are lots of exciting changes on the way as a part of UNAVCO's coming merger with IRIS to form EarthScope Consortium, including the development of a new common cloud platform (CCP) for data services. This complex project is well underway and will be rolling out in stages, with the goal of a transparent and relatively pain free transition for our community.
An early milestone in this project is today's release of a user identity management system. This foundational system lets users easily create an account and access data via multiple avenues, in addition to generating usage metrics requested by the National Science Foundation.
The initial release is operating on a parallel version of our file server to enable community testing and feedback, and allow for rapid refinement. This server will operate in parallel until October 1, 2022, when user registration and login will become a requirement on our main production HTTPS file server (https://data.unavco.org/).
Due to the removal of support for FTP from major browsers and operating systems, we moved our data archive file system to an HTTPS server in April 2021. Access to the old FTP server has been extended from the initial June 1, 2022 end date and will now end on September 1, 2022.
To help us test the new system, simply visit https://data-idm.unavco.org/ and choose a login method. You can create a new username and password, use an existing Google account, or use an existing institutional account through CILogon. As part of registration, you'll be asked to fill in your country, institution, and work sector. In your profile you will also find your API key for scripted data access.
The identity management system has been jointly developed with IRIS—see this announcement for more information on how it is being implemented for data access at the IRIS DMC.
In the future, you can expect to see additional cloud-based EarthScope data access services launched using this identity management system, including for our real-time GNSS data. This transition will also involve retiring our current HTTPS data archive file server in favor of a new web service leveraging cloud-native file formats with new capabilities. We'll provide updates as this work progresses, as well as tools and resources to help you keep your data flowing.
In the meantime, helpful information for using our HTTPS file server, including command line examples, can be found here. Please send any questions or feedback you have to software

unavco.org.
Home
Written by:
Posted: 30 June 2022
Last updated: 30 June 2022
Tags: data