The Data Access Interface-2 (DAI2) has been the primary method of searching and accessing GNSS data in the UNAVCO archive since 2007. It is a tool that was built in the Adobe Flash environment. Adobe announced in 2017 that Flash will reach end-of-life on December 31, 2020. UNAVCO will transition to a new interface based on GeoServer, Javascript and HTML5 technologies by this end-of-life date. UNAVCO will also provide guidance on the new data access portal through online short courses, Jupyter Notebooks, and online instructions as the new tool becomes available.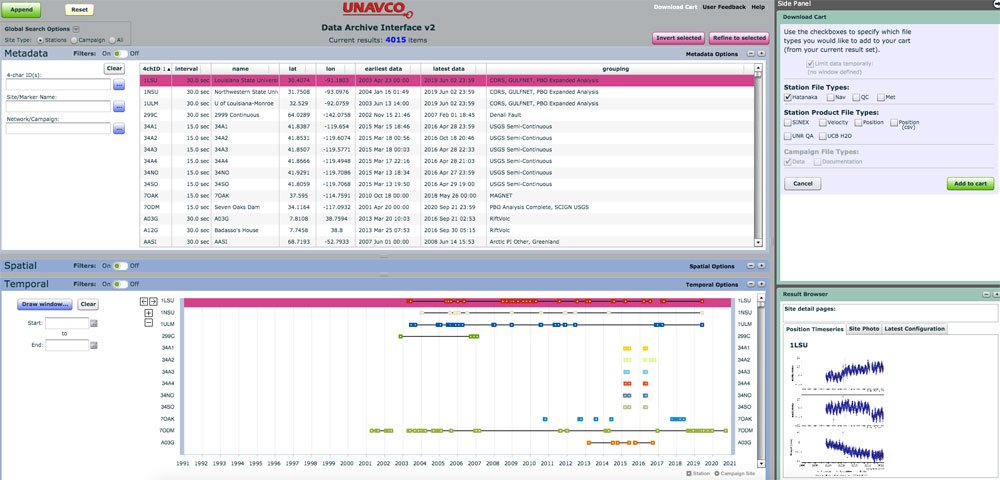 There is a strong possibility that Adobe Flash may become inoperable before this end-of-life date. Common browsers such as Google Chrome (targeted for removal in version 87, December 2020), Mozilla FireFox (completely removed by December 2020) and Apple Safari (version 14, expected in September 2020) have announced that they will not allow Adobe Flash to be installed in their respective products. In addition, Microsoft has committed to entirely removing Flash support from Windows by the end of 2020. As noted above, some of these deprecations will likely happen before Dec. 31, 2020. There are several alternatives at your disposal should this occur and you need to continue to search and access the UNAVCO GNSS database.
Use the DAI version 1. The DAI version 1 provides all the same capabilities that are present in the DAI2 plus some added metadata fields like, monument style, receivers, or antennas searched via model, serial number, Principal Investigator and campaign name.
Use the UNAVCO Java Command Line Tools. These tools provide a scriptable access to the database.
Do not upgrade your browser or OS until the new Data Access Interface (DAI) is available.
Maintain an older version of your browser/OS either through a concurrent browser like Firefox that is not updated or in a VM/Docker environment. We do not recommend that you use concurrent browsers, VM/Docker environments are ok.
UNAVCO maintains a strong commitment to providing open and easy access to its data holdings. The new DAI will be built on open geospatial standards that will enable interoperability with other data types like seismic, strain, tilt and pore pressure and provide a pathway for tools that access all this data through a common interface.
As we make progress on a new Data Access Interface we will provide community updates through the list-serv as well as on our website. If you have questions and/or concerns please contact archive-gps@unavco.org.