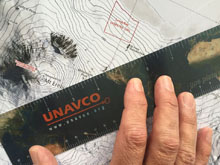 UNAVCO periodically publishes outreach materials such as one-pagers or brochures highlighting available services and community science, as well as producing a few promotional giveaways that can be used for learning more about geodesy.
We create and curate Animations and Videos, in partnership with many organizations, to promote Earth science learning, share UNAVCO services, and inspire the next generation of our workforce. Explore our full suite of videos on the UNAVCO YouTube channel.
Interactive Data & Mapping Tools help illustrate our dynamic Earth and other worlds using geodetic and other geologic datasets such as GPS, InSAR, and environmental data. Interactive pages provide short discovery activities to learn about the power needed to run scientific instruments through the Antarctic winter, the geology of Blue Ridge mountains and the Shenandoah National Park in Virgina, and more!
Hands-on Demonstrations
UNAVCO staff provide Hands-on Demonstrations that help immerse students in Earth processes.
---
---