Using the UNAVCO IDV in Geoscience Education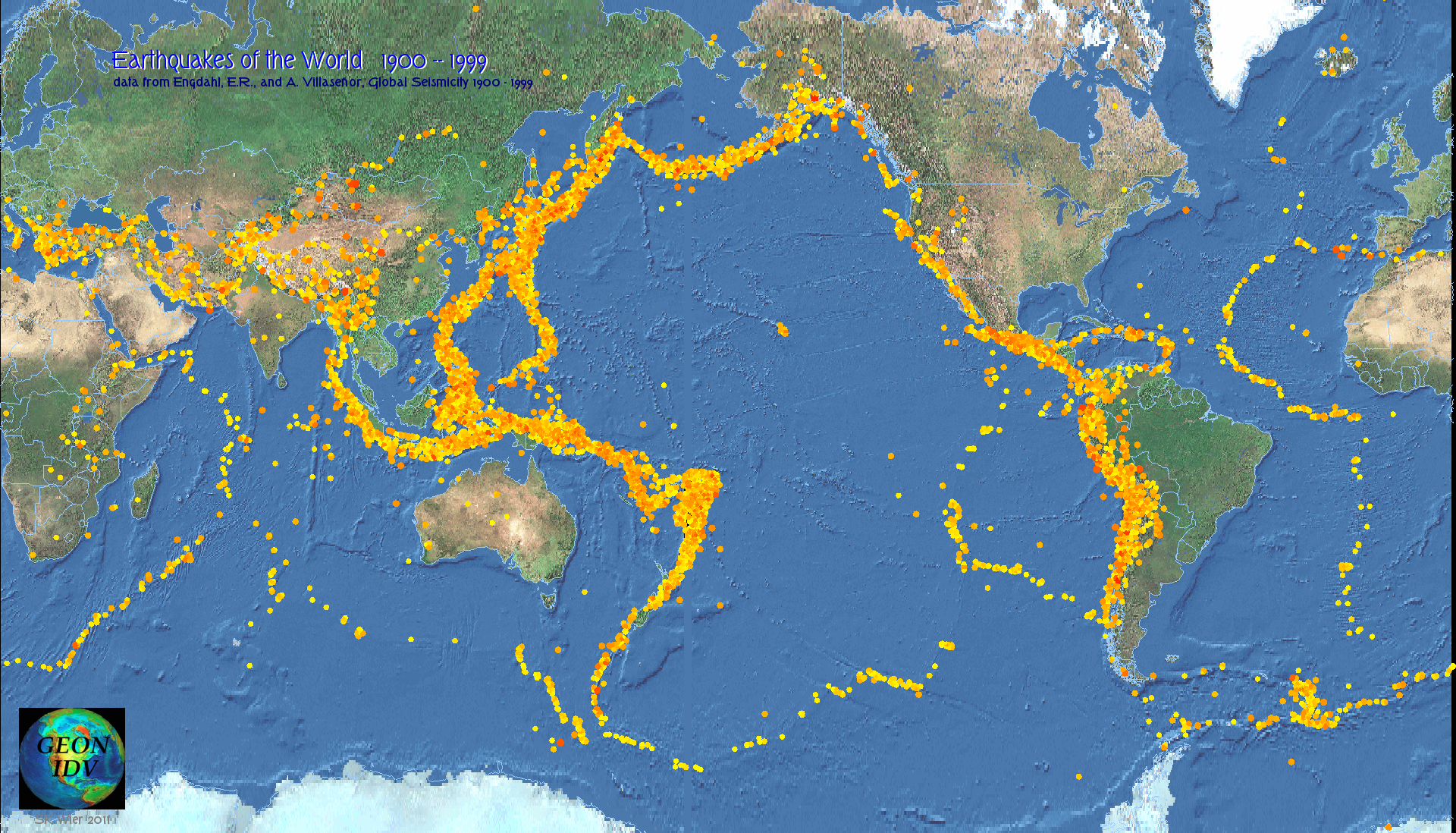 Earthquakes of the World, 1900-1999, mags 6+. Click for full size.
The IDV makes impressive displays of Earth science data for educational uses. You can see inside the Earth and the atmosphere. However, the IDV is not "easy" to use, though it is as easy to use as is possible, given all that it can do. Getting what you want requires training and practice, and reading the instructions. Once you are familiar with it you can do things no other software can do.
The Unidata IDV from Unidata is for atmospheric sciences, the UNAVCO IDV is for solid earth sciences. A Unidata resource about using the IDV in education is Geopod Teaching Tools.
Quality assurance
The IDV is used by hundreds of scientists worldwide with no security problems. The software is created and produced by UCAR a major US research laboratory in the earth sciences, with NSF funding.
Easy Installation
The IDV runs on all modern computers and usually installs in less than 10 minutes. Disk usage is less than 100 MB. The IDV has commercial quality installer files. It runs on Mac, Windows and Unix and Linux operatings systems. You need more than 1000 MHZ cpu speed and more than 1200 MB RAM for good performance; most recent computers have twice that or more.
Here are some ways the IDV can be used in education:
1. Lesson Material Preparation by the skilled educator / IDV user
A skilled IDV user can prepare displays (image files) and movies (Quicktime and animated gif files) of earth science data to be incorporated in lesson materials including lessons, posters, printed matter, power point documents, web sites, and so on. You can run a GeoWall or other true immersive 3D display system with the IDV.

The advantage of this approach of having a skilled IDV user prepare materials is that the best possible displays may be made to convey ideas. We recommend this approach.

This UNAVCO IDV web site shows how to use the UNAVCO (GEON) IDV and examples of displays you can make, and provides free data sources.
2. Pre-scripted "Live" Displays
The IDV can capture and replay any sequence of display changes including 3D rotation, time animation, etc., and play it back again. This feature can be used to make standalone demos of earth science, including kiosks or booths in museums. A skilled IDV user is required to make canned displays.
3. Immersive 3D Booths
It is possible with the IDV to make pre-scripted movies with sound showing earth science data in 3D with animations and fly-throughs. These could be the content for multi-screen visitor-surround booths, for example, in museums. A skilled IDV user is required to make canned displays. This has not been done but Unidata or UNAVCO would consider proposals with funding to jointly develop this.
4. The Skilled Educator / IDV User , with IDV Live in the Classroom
In the classroom a teacher could show live, interactive IDV sessions using a projector. This may also require some skill using the IDV. It would be possible to provide canned lesson plans showing how to use the IDV for a limited purpose in such a way that the classroom teacher need not be a highly-skilled IDV user.

The advantage of this approach is the excitment of live interaction and views of the data. Data choice available may be limited for several reasons, compared to case 1 above which would have more time and resources to carefully select the best data and carefully craft displays.
5. Student Use
The IDV can be used by students. High school students have found the IDV online and installed and used it on their home computers. However patience and training is required to use the IDV. Unidata IDV training classes take two to four days. The IDV was not designed for pre-college classroom use. It is not nearly so simple as, say, Google Earth. If Google Earth is a bicycle, the IDV is like piloting an airplane. It goes more places and flys in 3D. Flying it well takes training and experience. You are ready to solo only after hours of use. The more advanced and focused the student; the better this will work. It is excellent for advanced undergraduate geophysics major homework, but it probably will be confusing in less advanced settings.
Last modified: Saturday, 12-Dec-2015 04:44:38 UTC