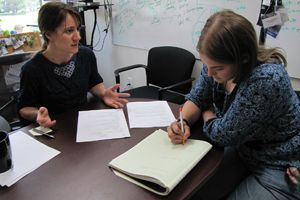 UNAVCO offers unique internship opportunities for undergraduate and graduate students. The UNAVCO Student Internship Program (USIP) internships are real-world work experiences related to the students' major or career goal. As an intern, you will be an integral member of the UNAVCO team and play an important role by contributing your knowledge, skills, and abilities to specific projects. Our managers teach interns what it is like to work in a non-profit organization that facilitates geoscience research and education. In turn, we anticipate that you will play an important role in achieving project goals and that throughout the internship we are able to share expertise, leverage best practices and forge lasting relationships.
USIP internships are full-time for 11 weeks. The 2021 program will run from mid-May through July.*
*UNAVCO intends to run all internship programs during summer 2021. At this time, we aim to conduct these programs in person, in Boulder, Colorado. Should the situation change in terms of health and safety of participants and program staff we will convert all programming to a remote model. We will make any such decision on or before March 1, 2021. By applying to this program, you are agreeing to participate in either format. Support is available to assist with a work from home model.
Applications will open in December and close February 8, 2021.
Internship assignments vary each year based on business needs. Managers identify a specific scope of work, designate a role, and create a statement of work for the intern. The intern will be assigned real-world work, with impact to UNAVCO and the community we serve. The manager will be the intern's supervisor and mentor.
The intern will receive a company orientation and then collaborate with their manager to develop a work and learning plan that aligns with the statement of work. Before beginning work, interns will receive appropriate training, including compliance and safety training. Interns will meet with their managers weekly at the beginning of their assignment and have informal performance feedback throughout their assignment.
UNAVCO provides many formal and informal learning opportunities; these include team meetings and various company meetings. Interns will be invited to participate in these events as well as other UNAVCO business and social events.
Check out Internship Alumni page to learn more about past participants, including those from RESESS and Geo-Launchpad, that have worked at UNAVCO.