Data For Educators
Looking for interesting GPS data to use in your course? We've worked with educators and scientists to identify GPS stations that illustrate various Earth science processes.
The data are the same quality that scientists use in their research and are in an Excel readable format called CVS. By clicking on the station identifier bubble, students can explore the time series plots, create their own plots from the CVS files, and learn more about each GPS station.
To see these stations on a larger map and discover more GPS stations and data, try the Data Archive Interface.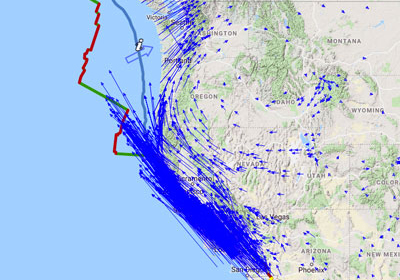 To explore GPS velocity vectors, try the UNAVCO Velocity Viewer.
Location-Based GPS Data by Tectonic Setting


Movement Near a Transform Fault
Movement Near a Convergent Boundary of a Subduction Zone
San Andreas Fault, California
South and Southwestern Alaska Coast
Oregon Coast
Washington Coast
Movement in an Area of Spreading
Ground Deformation From Volcanic Activity
Yellowstone National Park, Wyoming
Mount St. Helens, Washington
Aleutian Islands of Alaska
Ground Motion After an Earthquake
Parkfield, California
Southern California
Seasonal Groundwater Signals
Midwestern United States
Northern Alaska and Canada
Last modified: Friday, 10-Aug-2018 19:57:21 UTC